Protecting the environment is of utmost important for us at Eagle Coaches Ltd. As a coach company we are fully committed to reducing our environmental impact wherever possible.

Travelling by coach causes less pollution per passenger per kilometre than the equivalent journey made by combustion engine train or car. Travelling by coach also significantly reduces road congestion. At Eagle Coaches Ltd we know this is an important consideration for many of our clients in the current climate and so this is some of the ways we are doing our bit to look after the world around us.


Low & Ultra Low Emission Vehicles – Our aim is to continually update and modernise our fleet so that we are using the cleanest engines possible, we currently have over 60% of our fleet with Low and Ultra Low emission status.
Vehicle Monitoring – Our vehicles are fitted with Greenroad Tracking and monitoring systems which provide real time information on driver safety, efficiency and idling times allowing us to reduce overall emissions.
Recycling – We provide 100% biodegradable waste bags on all vehicles and use a mixed waste recyclable waste bin at our depot for our waste to by properly managed and for materials to be recycled where possible.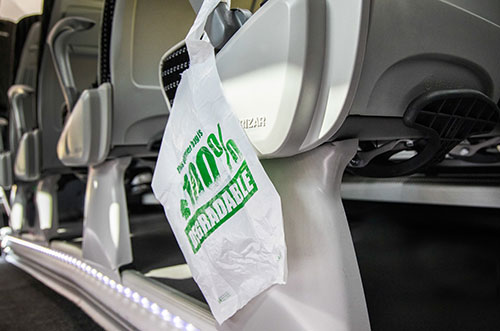 On board our day trips we supply recyclable cups and stirrers as well as sustainably sourced teas/coffees etc.

Waste oil and other fluids are recycled by a dedicated contractor.

We use environmentally friendly cleaning products where possible to clean our vehicles.

If you would like to talk to us regarding our sustainability policies and practices, please do not hesitate to contact us.