The Eagle is now celebrating 97 years in Business.

Eagle Coaches are also the longest standing coach company in Bristol and owned by the same family since the very beginning! The Story Begins back in 1926, operating from the family home in Barton Hill, Bristol, Herbert Ball and his wife Alice began hiring out bicycles for a small charge. Very soon Herbert and Alice decided to incorporate a charabanc and from there it grew into a flourishing small family business.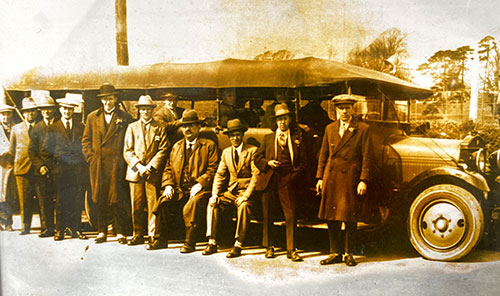 In the early days, as with many other coaching firms, their vehicle would be utilised through the week for delivery of coal and general goods and at the weekend would undergo a body change to become an open-topped passenger carrying vehicle. They offered outings to Cheddar, Clevedon and Weston Super Mare to the eager Bristolians who wanted a glimpse of life further afield.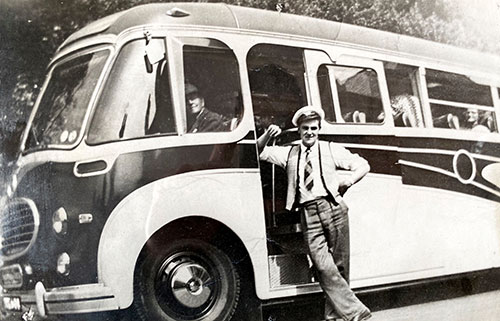 During the war years, business was brisk with seven contracts to transport workers to the local munition's factory. Only having three vehicles did not deter Alice who subcontracted some work., After the war, excursions were then offered, and son John would be sent out to knock on doors and tell occupants to grab their coats and hats as Mrs Ball was going to Weston this afternoon. When John left School, he trained as a mechanic at a firm in central Bristol until he was called up for national service in the RAF. In 1952, with his national Service complete, John joined the family business.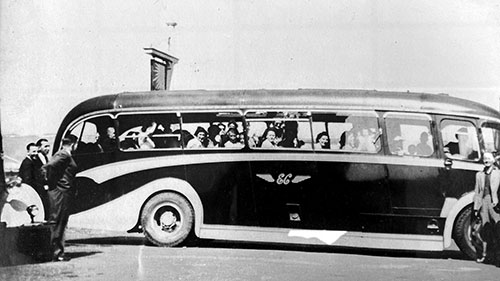 During the 50's and 60's with John at the Helm, Eagle Offered day excursions and tours. The companies first continental tour in 1972 was to Normandy Beaches using the overnight Townsend Thoresen ferry from Southampton to le Havre. From there they would spend the day touring the Normandy Beaches travelling down to Honfleur and Cherbourg in the afternoon, followed by the 6 hours return from Cherbourg to Southampton. In the same year, Johns son Adrian Joined Eagle as the 3rd generation of the Business.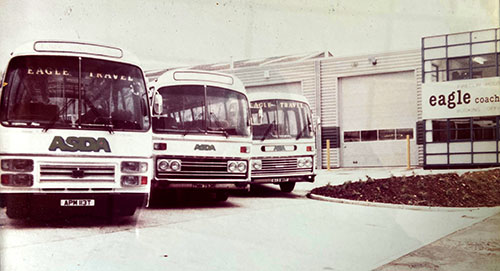 In 1984, running a mixed fleet of vehicles, the red and cream livery was replaced with a new yellow and orange theme. This livery was further updated once again with the introduction a brand-new DAF Smit coach in 2000, sporting a yellow base colour with orange and red stripes.
From 1979 onwards Eagle has almost exclusively bought DAF engine coaches after John purchased a DAF VanHool coach and experienced great service and reliability, so he stuck with them.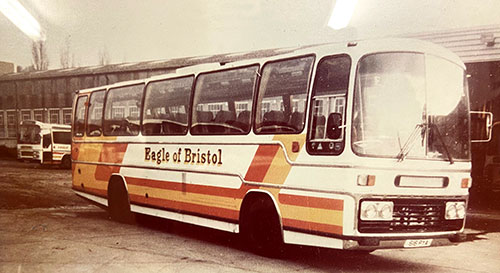 In the early 90's, Adrian's Son James Joined as 4th generation to the business after training as a mechanic and completing the PSV course at Tile Hill College in Coventry. The business at this point was operating various types of work including work and School contracts as well as its own tours, day trips and excursions programme.




Sadly, in December 2000 John Ball passed away at the age of 69 after devoting 48 years to the business.

Fast forward to 2016 and Eagle Coaches 90 years strong run by Father Adrian, and Sons James and Josh. The fleet is comprised of 20 coaches which are meticulously maintained in house by a long-standing efficient team of Mechanics in the garage. The business is also supported by long standing office staff and a dedicated team of drivers out on the road.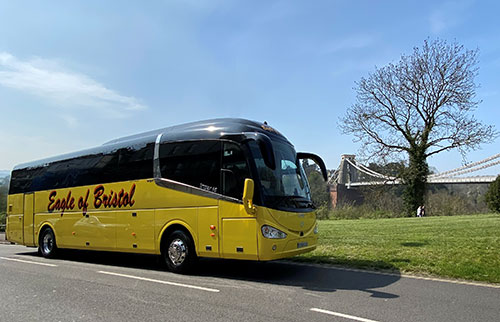 In 2023 Eagle celebrates 97 years in operation with the return of its day trips and excursions programme following the COVID-19 pandemic and a year of lockdowns and working from home for most.